Posted on
By Taylor Drose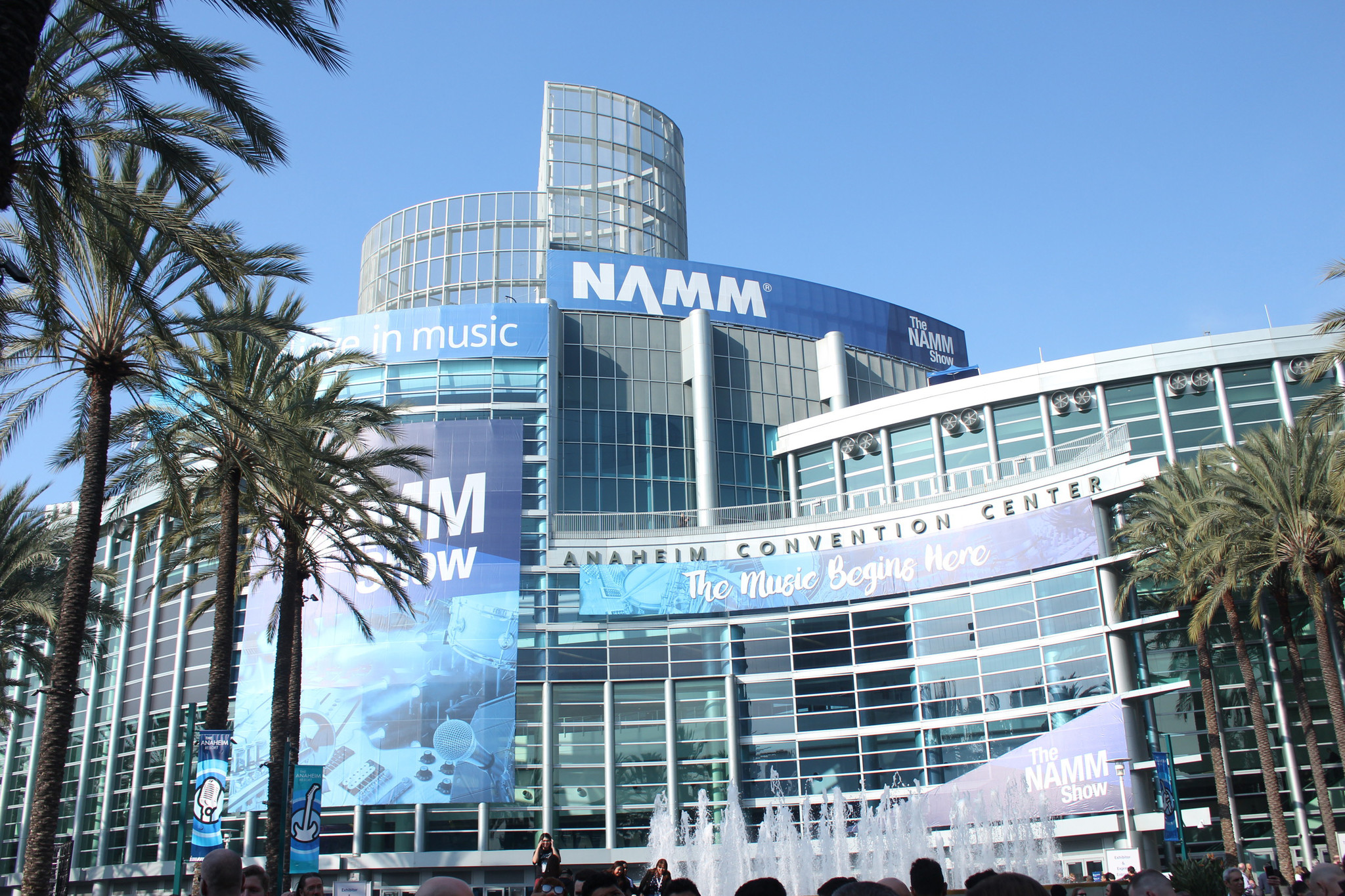 THE BEST NEW DRUM GEAR FROM THE 2020 NAMM SHOW!
The NAMM Show, where music retailers, companies, celebrities and general public pilgrimage all the way to Anaheim, California to look at every piece of new gear displayed in what is likely the single loudest room on the entire continent. Players, dealers and gear-heads alike are always stoked on what they might see, hear or witness at the show and 2020 was no exception. The number of great products we will be seeing trickle into the retail environment over the next few months is staggering. When it comes to gear, I like to think that I'm not an easy person to impress, but there were many new products that caught my eye. Here are just a few of my favorite new products and companies from the 2020 NAMM Show! *Keep in mind this is not nearly a complete list of all the great new gear to hit the market this year*

One of the biggest and most anticipated new releases this year was the new "2.0" signature Benny Greb snare drums from Sonor. Being huge fans of the original benny Greb signature snare drum from roughly 10 years ago, all of us were pretty excited to catch a glimpse at not one, but 2 upgraded models! The first model is similar to the original snare we know and love. A 13x5.75" Beech shell with a Scandinavian Birch Veneer and a Bubinga inlay to finish it off. The second model is also 13x5.75, but with a 1.2mm Brass shell and a very cool "vintage" patina finish. The real kicker with these drums is that they are now outfitted with an SQ2 style throw off, vintage series teardrop lugs and not one, but two internal dampeners on a system that they call the "Monorail" dampening system. The system slides each individual dampener up and down individually for a more controlled sound. The first dampener is a very standard cymbal felt style dampener we all have seen or worked with at one point or another. The second is a sheep wool dampener that has a very unique, controlled feel and sound. These drums were simply stunning and we were privileged to watch the man himself, Mr. Benny Greb, demo these drums two times a day at the Sonor booth.. Big props to Benny for doing that. Sonor also introduced a new finish in the Vintage series drums called California Blue. It's a nice Light Blue pearl finish that still has a classy feel like any Vintage series finish, but it has significantly more "POP" to it and I believe it fills a gap in their Vintage series finish selection for the better. 
By far the most aesthetic booth at the show was A&F Drums from Austin, TX. From 28" snare drums and 30" square ride cymbals to sleek vintage-style drum sets and a full selection of brand new hardware, A&F has been the talk of the town both in-store and on social media. My favorite new offering this year is a brand new, gorgeous line of hardware. The designs are incredibly practical, vintage inspired and have a great looking nickel plating to polish them off. The stands themself are very functional and light weight. The line features a straight stand, boom stand, snare stands, hoop clamp L-arms and even a cocktail drum conversion kit! There are 2 versions of  the snare stand, one can hold a drum from 10-16" and the other can hold a drum 18-22" in diameter. The larger basket is designed to be a conversion to turn a snare drum or tom into a vertical mounted bass drum and they also offer a pedal attachment for this stand so you can clip your pedal onto something. The new hardware line looks great and the red felts on the stands give even more flare. The guys at A&F are always thinking outside the box and we are glad that they are. Keep up the good work!
The award for the most outstanding new gear introduced in 2020 definitely goes to Mapex. Mapex announced that they have 19 new snare Black Panther drums, a new line of Saturn Evolution drums and a new mounting system for their Saturn series. 19 NEW snare drums is unheard of! The snare drums range from maple and birch to copper, brass, aluminum, steel and a wide variety of revamped and new artist model drums. The black panther line of drums have always sounded great and with 20+ drums in the full line there is a problem if you can't find a drum you like in the Black Panther series. As far as the new Saturn Evolution drums are concerned, we couldn't be more impressed. These drums are hybrid shells of Walnut and Maple, but they can now be made in a Birch/ Walnut shell as well. Mapex did Birch/Walnut Saturns as a limited run in the 2000's and its nice to have the variety back in their modern shell technology. These drums also feature the new, attractive "Halo" mount. The mount is a very sleek aluminum band that screw into the underside of the top lugs and is less intrusive and clunky as the older model. This design does not touch the shell in any way and allows the drum to resonate more. These are also offered in a variety of new finishes that are as eye catching as previous Saturn finishes have ever been. 
Electronics are really coming in hot this year. Roland specifically had a mind blowing booth this year with some of the coolest new electronic kits the industry has ever seen. The big reveals were the TD-27, the VAD 506 and the VAD 306. At the heart of all of these kits is the new TD-27 Brain. The 27 is phasing out the TD-25 that has been out for a little over 3 years. The new features of this kit are bigger pads all around and the introduction of digital triggers on the snare drum (which is 14" by the way) and digital triggers on the ride cymbal. This feature was borrowed off the 27s big brother, the TD-50. The VAD506 and VAD 306 are actually full blown electric kits in an acoustic body. These are run with the same brain as the TD-27 but have actual wood drum shells to give them a realistic, sturdy look. These kits actually look and feel more like an acoustic kit. The cymbals on these kits are thinner and have more give then the standard rubber cymbal pad everyone has hit and has never been too impressed with. I wouldn't be surprised to see more drummers gigging out on these kits as time passes. They are incredibly functional and have a very clean look to them. Roland continues to knock it out of the park! 
Walking through what seemed like an endless sea of guitars to get to the Tama booth might have been intimidating for some drummers, but I had my blinders on and once i got there it was well worth the trek. Tama has always killed it with their finishes and the new Starclassic Walnut/Birch kits were some of the best colors I have ever seen. Colors like Neon Yellow Oyster and Neon Orange Oyster stood out from the entire booth. They also put out a Black and Gold duco finish in the Superstar Classic "neo-mod" kit and a nice red cherry as well. My personal favorite from Tama  was the introduction of the Star Mahogany kits. I love mahogany kits and in recent years there haven't been many companies offering a full mahogany kit in a high end series like this. Way to take initiative Tama! If these kits sound half as good as they look (I'm sure they do) then Tama has successfully introduced this severely underrated wood in a high end kit offering. 
Gretsch and DW are always some of the most exciting booths at the show. DW made some very extravagant looking collectors kits this year. One kit even had vertical metal inlays in the finish which I have never seen before. Their big reveal were the limited edition snare drums they are calling "True Cast". It's essentially a heavy, cast bronze shell with bell brass hoops, machined brass turret lug, uniquely concave lathed shell and a "Mini Mag" throw off. This was a concept dthat DW and Dave Elitch put together and the final product is one of the best looking/well made cast snare drums the world has ever seen. They are offering this drum in a super limited quantity (only 75) and a casual price tag of roughly $4,200. Gretsch is now offering their USA kits in a "heritage build" configuration that features one center lug on each drum and a redesigned rail mount that is by far more functional than any rail mount they have used in the past. To the old timers, this was commonly known as the "Playboy'' configuration. They also came out with a limited USA kit made out of 150 year old River Cypress. This kit is unique because the finish is just a lacquer over the actual Cypress. Each drum has a different wood pattern and different marks on it that make it its own. Last but surely not least, the Catalina series is getting a limited edition walnut/maple shell pack. The kit looks great and is outfitted with wood hoops and a high gloss lacquer finish. Very eye catching! I'm curious if this kit would sound anything like the Mapex saturn series since it is more or less the same shell configuration at a slightly cheaper price point. 
One of the most unsuspected and innovative products I saw this year had to be the Zikit. Now what is a Zikit you might ask? Well I didn't know what it was either, but after demoing it and seeing it in action I was pretty blown away. The Zikit is an adjustable insert to a snare drum that allows you to change the diameter of the drum by 2" increments. It consists of 3 high density plastic drum shells that mount inside of your snare drum and a lever a levered gear mechanism that moves each shell up to touch the top head thus changing the size of your batter head surface area. This, in theory, makes your 14" snare drum a 12" or a 10" with each flick of the lever. It worked very well, was very well made and was definitely a unique idea. They are also offering the mechanism already installed in a seamless acrylic drum for an upcharge in addition to just buying the mechanism and installing it in your own snare drum. The one downside to this product is that you have to drill a hole in your drum to get the lever mechanism to work. It would have made more sense to try and utilize the vent in the drum, but to a person who doesn't mind a little retrofitting, this shouldn't be a problem.
Lets bring up some honorable mentions from a few companies. First, besides a few killer finishes in the classic maple, legacy, nusonic and pocket series our friends at Ludwig are introducing a new line of oak drums in the Classic series. If you haven't heard a high-end oak kit before you're definitely in for a treat! Lots of attack, plenty of projection and a nice warm tone. Pearl also had a few new finishes for their high end drums along with new Eliminator pedals and lightweight hardware, but they are also making a whole new line of gorgeous solid shell snare drums. These drums are made of numerous wood types of your choice and are all handmade in Nashville. Meinl is another company to introduce a ton of great new products both in their cymbal line and their percussion catalog. My favorite was the introduction of a new lighter, darker Pure Alloy selection. These have always been fantastic cymbals and it's great to have a broader Pure Alloy selection.  I also made sure to check out the Sakae booth since we heard that they were back in the drum game. They had a large amount of new finishes, but they are only currently offering one series of drums, the Evolved series. This series is an all maple shell with 6 standard finishes and 22 colors available for special order. The kit was very nice and definitely had the sound and build quality of the older Sakae kits. It would be nice to see them offer other lines such as the Trilogy, Celestial and Almighty birch again but we'll see what happens! The folks at Korg were pitching a VOX kit that was a replica of the strange old Trixon SpeedFire drums and I have always had a soft spot for the Speedfire drums. The bass drum looks like it melted and there is room on the batter hoop to put 2 single pedals on the kit. The bass drum is also chambered down the middle so you can get 2 different sounds out of the bass drum. This was a cool kit to bring back. They are just fun to play and a real conversation piece to look at. I'm excited to see what these guys have available down the road. Lastly, I want to give a shout-out to the incredible folks at Welch Tuning System drums. They continue to be the talk of the industry and won a well-deserved "Best In Show" award for NAMM 2020. We are in love with their innovative design and look forward to seeing them continue to progress in the coming years. 
2020 has a plethora of fantastic new gear coming out and I'm so excited to see what the most popular thing will be to the consumers. Companies are stepping up and really giving it their all on new products and innovation. It's hard to take a guess at how much more innovation our industry can produce, but someone is always going to find a way to create something new. Drumming at its core is just loud circles that you hit with a stick and as long as no one strays away from that basic idea, people will still love drums and we'll still love seeing the new products that come out. If you have any question about anything you read about in this article please don't hesitate to give us a call, we've already got a lot of this new gear on order! Thanks.