"DRUMMERS SERVING DRUMMERS SINCE 1984"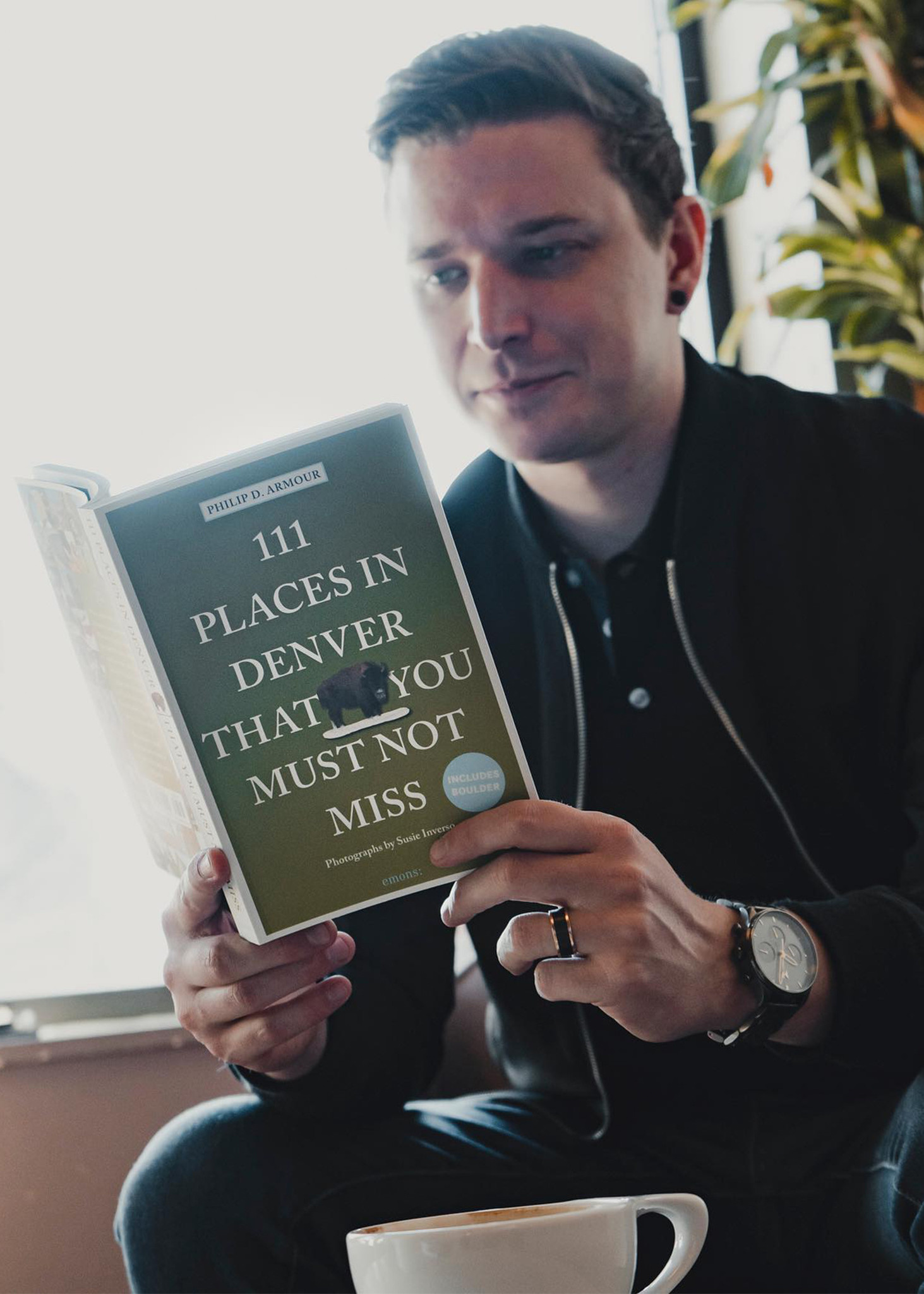 ALEX SIMPSON
OWNER/OPERATOR
Alex was born with a pair of sticks in one hand and a Rupp's gift card in the other! Alex has enjoyed a diverse career in the drum industry as a Drum Corps International Finalist, a passionate drum salesman and a professional drummer in Colorado and NYC. Alex brings a wealth of experience to bear in his mission to strengthen and embolden the Colorado drum community!
CURRENT DRUM SETUP
Tama Starclassic Bubinga Omni-Tune - Yellow Lacquer
Yamaha Akira Jimbo Signature Snare
Paiste 602 Modern Essentials Cymbals & Cup Chimes 
Yamaha Pedals/Hardware
FAVORITE BAND/ALBUM
Rush - Vapor Trails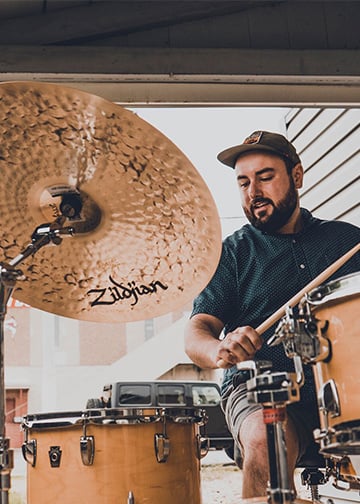 EVAN MILLER
OPERATIONS MANAGER
Evan has been playing drums for the last 16 years and performing with bands around the Denver area for the last 11. He draws from his vast experience with marching, jazz, orchestral, punk, and hip hop styles to assist drummers from all backgrounds. With one ear to the record player and one ear to the community, Evan serves both the music and the people that create it.
CURRENT DRUM SETUP
Vintage 1960s Slingerland Kit - Silver Sparkle
Ludwig 70's Acrolite Snare
Zildjian Constantinople/Avedis Cymbals
DW Ultra-Lite Hardware
FAVORITE BAND/ALBUM
Chon - Grow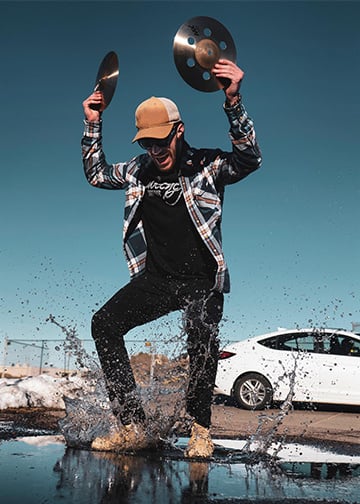 JOSH NIETZEL
MARKETING MANAGER
Josh first picked up the sticks at age four and immediately joined his own family band! With influences from Led Zeppelin to Count Basie, he diversified his playing early on before attending the University of Wisconsin La Crosse. Josh also produces world-class photography and visual content for the Rupp's Drums social media channels. 
CURRENT DRUM SETUP
1980s Ludwig Rocker Kit
1976 Ludwig Super Sensitive Snare Drum
Zildjian K Custom Dark Cymbals & Sabian HH Vintage Ride
FAVORITE BAND/ALBUM
Good Kid, M.a.a.d City - Kendrick Lamar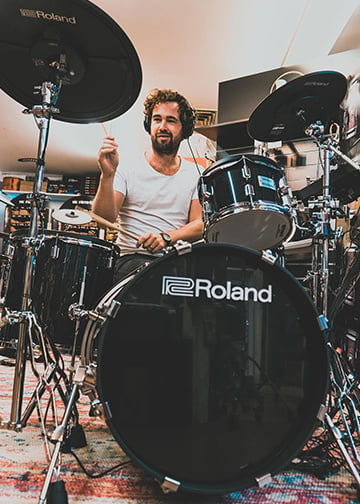 DEREK SWINK
SALES ASSOCIATE
Recently relocated from NYC, Derek has played around the world for audiences including Elon Musk, President Obama and a Saudi Prince. When Derek isn't recording in his home studio or performing in jazz clubs and in the pits of musicals, he spends his time studying philosophy and playing disc golf.
CURRENT DRUM SETUP
Vintage Early 70's Slingerland Kit - Chrome Wrap
Vintage 60's Ludwig Supraphonic Snare Drum
Paiste Masters Dark Cymbals
FAVORITE BAND/ALBUM
Brian Blade Fellowship - Perceptual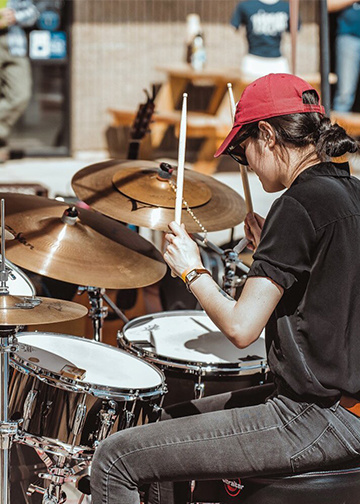 ADRIANA PEREZ
SALES ASSOCIATE
Drummer, audio engineer, producer, icon. When she's not at the drum shop or the studio, Adriana gigs with Amazing Adventures, KANDIN, and Jackson Harkness Trio. With over a decade of experience as a working drummer and a passion for producing, she's known as the provider of Wheat Thins and sick beats.
CURRENT DRUM SETUP
Gretsch Renown Maple (12, 16, 22)
Gretsch Taylor Hawkins Signature Snare
A Zildjian Cymbals
Steve Gadd Signature Drumsticks
FAVORITE BAND/ALBUM
The Internet - Ego Death
CHRIS DOWIS
DRUM SPECIALIST
Chris Dowis has worked as a touring drum tech for artists such as Faith Hill, Tim McGraw, Heart, Carrie Underwood, Babyface, Brad Paisley, LeAnn Rimes, and Seal for over 20 years. When he's not on the road setting up kits for the world's best drummers, he's lending his drum expertise to the rest of us!
CURRENT DRUM SETUP
Tama STAR Bubinga 6pc Kit - Dark Cordia Green
Tama STAR Walnut 14x8" Snare Drum - Indigo Sen Burst
Sabian Cymbals & DW Hardware
Remo Drumheads
FAVORITE BAND/ALBUM
Pink Floyd - Pulse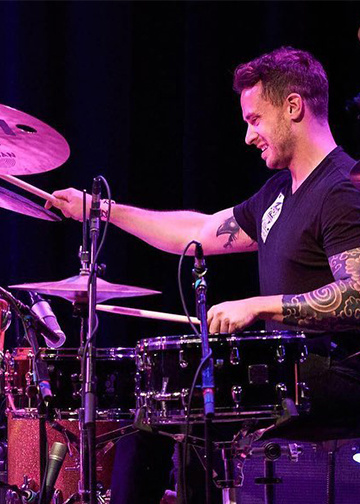 COLLIN SITGREAVES
TEACHING FACULTY
Collin has a BM in Music Performance and has been teaching private lessons in Colorado since 2008. A verified musical chameleon, Collin performs with various pop/rock, jazz, funk, blues & musical theater ensembles. He also performs with the Denver Nuggets SKYLINE Drumline and is a Sabian Education Network artist.
CURRENT DRUM SETUP
Pearl Reference Pure kit - Purple Craze II
(10, 12, 14, 18, 20, snare)
Sabian Cymbals
FAVORITE BAND/ALBUM
Porcupine Tree - In Absentia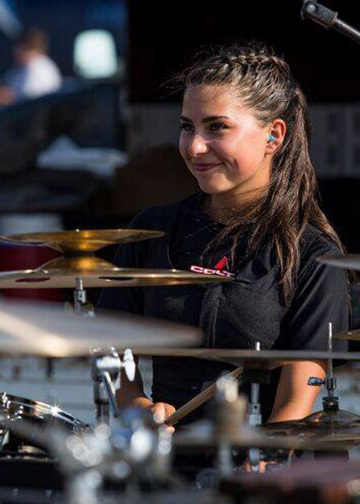 NIKKI SAIZ
TEACHING FACULTY
Nikki received her degree in Jazz Studies at the University of Denver and was one of the first women to play drum set in Drum Corps International. When she's not gigging with her four local bands, she is teaching music programs around Denver. Nikki hopes to inspire the next generation and foster their love for drums!
CURRENT DRUM SETUP
Gretsch Brooklyn kit - Satin Cherry Red
Sabian Cymbals
Vic Firth Sticks
FAVORITE BAND/ALBUM
Red Pill Blues (Deluxe) - Maroon 5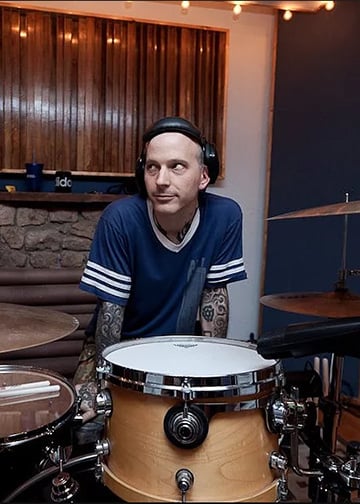 DEVON ROGERS
TEACHING FACULTY
Devon has enjoyed performing, teaching and recording drums for 30 years. With decades of experience in drum retail, he offers a rare level of product knowledge when working with customers. Devon also enjoys giving his many drum students the tools they need to develop their skills and find their voice on the drums!
CURRENT DRUM SETUP
Hybrid Roland TD-50 & DW Drums Kit
70s Ludwig Supraphonic Snare
DW & Tama Pedals & Hardware
FAVORITE BAND/ALBUM
DJ Shadow - Endtroducing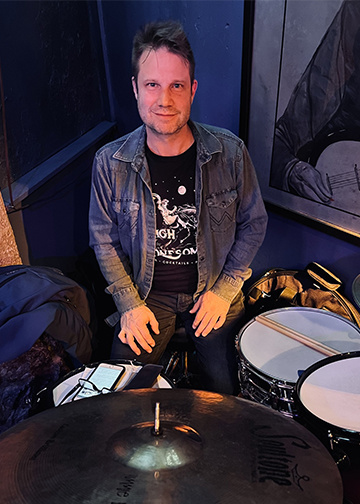 JIMMIE DEAN

ECOMMERCE SPECIALIST
For the past 30 years Jimmie has been involved with music performance, retail, distribution, education, and non-profits. He plays drums with a variety of artists and owns Denver Music Group, a pro audio distribution and sales company. Jimmie is an outspoken advocate for the arts and works to empower drummers in Colorado!
CURRENT DRUM SETUP
DW Collectors  Kit (10,12,14,16,20)
Sonor 1960s Teardrop Kit (13,16,20)
Soultone Cymbals
FAVORITE BAND/ALBUM
Prince - Sign O' The Times