Posted on
By Alex Simpson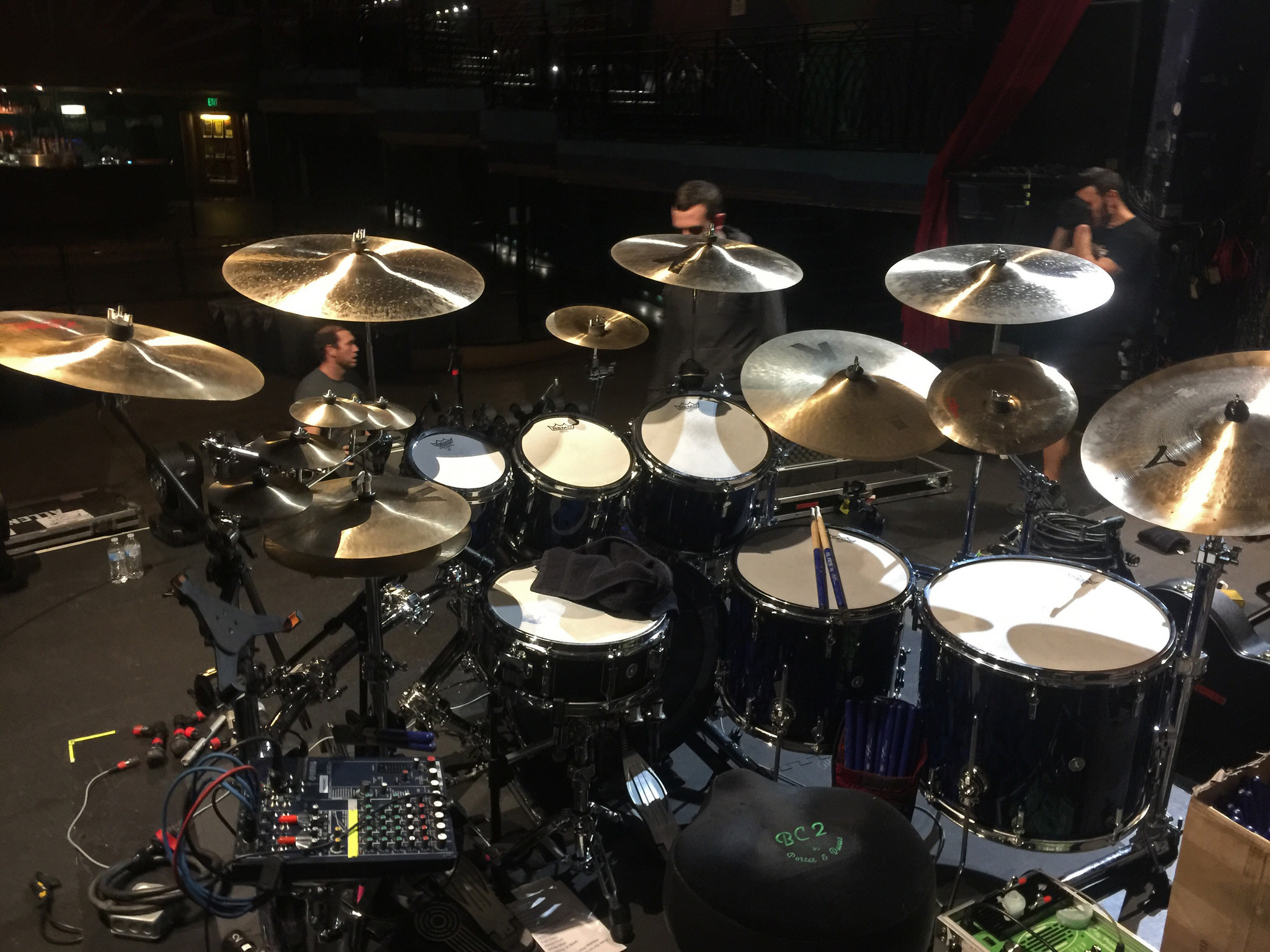 Gavin Harrison's Touring Rig - Photographed by Alex Simpson
On Friday, December 6th I had the pleasure of attending sound check at the Gothic Theatre in Englewood, CO before a fantastic performance by The Pineapple Thief featuring Gavin Harrison on drums. As someone who's been a Gavin Harrison uber fan for nearly a decade, it is always incredibly exciting to have the chance to watch him at work. For those who haven't seen Gavin Harrison perform in person, I can't recommend enough that you keep track of his tour schedule and catch him live as soon as possible. Whether at sound check, backstage or in the middle of a set, Gavin is a consummate professional who exhibits extraordinary attention to detail. His precise, melodic, unpredictable drumming and obvious dedication to his craft are sure to leave you inspired! 
Though his now iconic drum kit has remained somewhat consistent since he gained worldwide recognition in the mid 2000s with Porcupine Tree, it remains a unique and musical setup that does change slightly to adapt to each new playing situation. When I found myself behind his kit after the show I couldn't resist the temptation to take a photo and share the specifics of his touring setup with The Pineapple Thief.
Let's start with drums! Gavin's signature drum sound is largely thanks to his gorgeous Sonor SQ2 kit and signature snare. 
Sonor SQ2 Maple w/Tribal Blue Lacquer
(8x7" tom, 10x8" tom, 12x9" tom, 15x13" floor, 18x15" floor, 22x15" kick w/AKG D12vr on internal suspension mount)
Sonor Gavin Harrison Signature Protean Birch Snare Drum (14x5.5")

This is an extraordinary drum with a ton of great custom features - Check it out HERE!
Now onto cymbals! His zildjian.com setup has been altered slightly for this current tour. From left to right:
20" Zildjian Crash of Doom (a great substitute for the china cymbal he usually places to his left)
Gavin's legendary Custom 5-Bell Tree - 4", 4.5", 5", 5.5", 6" (No, these custom bells have not yet become available to purchase)

14" K Hi-Hats (a darker, warmer sound than his usual K custom hats)
20" K Custom Dark Crash

8" Custom Bell (A thick, piercing cymbal with beautiful overtones that Gavin uses to great effect)

17" K Dark Crash
20" K Ride

19" K Custom Dark Crash
12" FX Oriental China Trash (Consistently used by Gavin for as long as I can remember!)

22" A Swish Knocker w/20 Rivets
Gavin's Remo drum head choices have also remained pretty consistent in recent years. His toms feature Remo Coated Vintage Emperors, the kick drum has a Clear Powerstroke 3 batter head and his snare drum has almost always featured a Remo coated Controlled Sound with bottom black dot on top and a clear hazy ambassador on bottom. 
The setup is complemented by Tama Speed Cobra double pedals, Gibraltar hardware, a Porter & Davies BC2 tactile monitoring system and his signature Vic Firth drumsticks.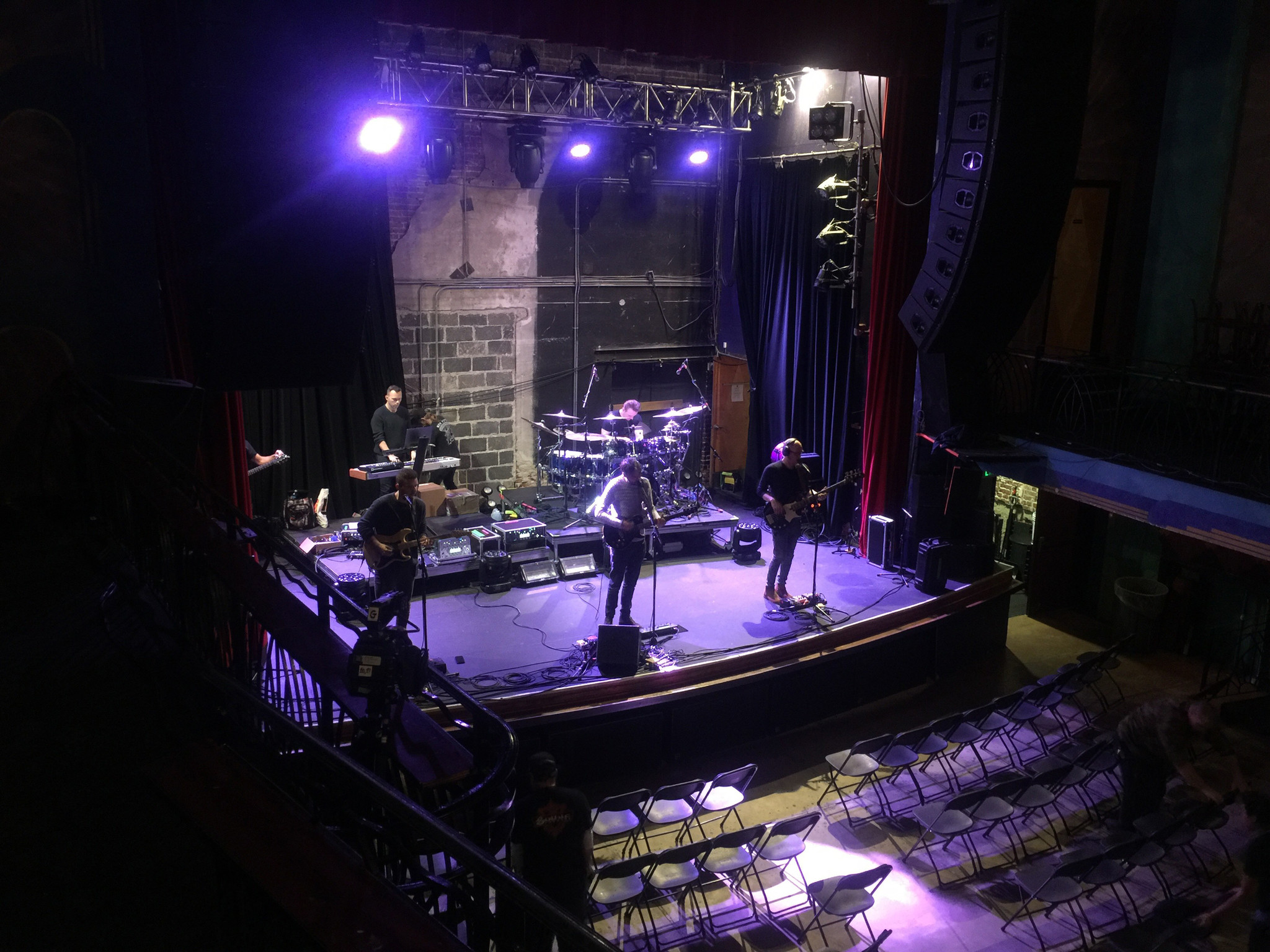 Sound Check with The Pineapple Thief  - Gothic Theatre - Englewood, CO